More journalists are getting infected as COVID cases surge in Indonesia
One of the less obvious front-liners in the fight against COVID are journalists. Though some of them try to work from home, many are still required to cover events and interview people, so that the rest of us can be informed.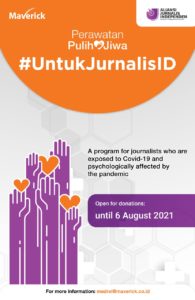 As a result, many of them are exposed to the COVID virus. According to the latest figures from the Indonesian Journalists's Alliance (AJI) out of its thousand members throughout Indonesia, 39 have reported that they have contracted COVID. Jakarta has the most number of cases at 24, Bengkulu has 3, Yogyakarta and Bandung have 2 each while Surabaya, Malang, Padang, Tanjung Pinang, Balikpapan, Semarang and Ternate recorded one case each. Five of them have recovered and tested positive but 34 are still in isolation and under treatment.
In addition, Maverick Indonesia received almost 20 journalists a week asking for donations. Most of them are from TV and online media.
AJI expects the number of journalists with COVID to rise with the current surge in cases throughout the country.
The journalists have been having a hard time since the pandemic began. As a communications firm that deals with journalists all the time, Maverick is only too aware of the difficulties they face.
Back in April 2020, when the rise in the number of cases seemed more under control, the main concern for journalists was that many of them have had their hours, and consequently their take home pay, cut because the media they work at are also suffering from declines in revenue.
So Maverick worked with AJI to raise funds for a program that provided journalism fellowships to affected journalists. Those affected by pay cuts could apply for a stipend to allow them some income while researching an agreed-on topic or issue with AJI. That way they were able to continue being journalists.
Clients (AQUA, Pfizer), corporations (OPPO, Jenius, Nutrifood, H+K strategies), not for profit organization (CIPS), and individuals responded to this call and we managed to raise Rp298 million, with which we were able to disburse 40 fellowships to journalists across Indonesia.
By February the need shifted. More journalists began to be infected by COVID, and we still had about Rp90 million from the fellowship fund. Together with AJI we redeployed it into the #UntuikJurnalisID program that would provide cash assistance for Covid-19-infected journalists undergoing self-isolation at home or under treatment at hospitals.
Between February 25 to July 6, we managed to lighten the burden for 48 journalists undergoing self-isolation or under treatment at hospital for light to medium cases.
Now, with the new surge of the pandemic that is propelled by the Delta variant, more journalists are being infected and we need to raise more funds to help them.
We aim to raise up to Rp150 million in this round of #UntukJurnalisID to help the journalists. Corporations, institutions and individuals wishing to help can contact the Maverick in charge of the program, Raras at raras@maverick.co.id or medrel@maverick.co.id for more details.
We rely on journalists to keep us informed. Many of us also depend on them to help us connect with a wider audience. They have always been there to help us, it's time we returned the favour and help them in this difficult time. (*)
You can also find out more information about #UntukJurnalisID program on our Instagram.