The media industry is increasingly faced with a series of disruptions. The print industry, for example, has been hit hard by the onslaught of digitalization, media ecosystems that are marked by oligarchic biases, and last but not least, the pandemic. At least five print media bit the dust early in 2021 while the surviving ones have had to rely on pay cuts and even a reduced workforce to stay afloat.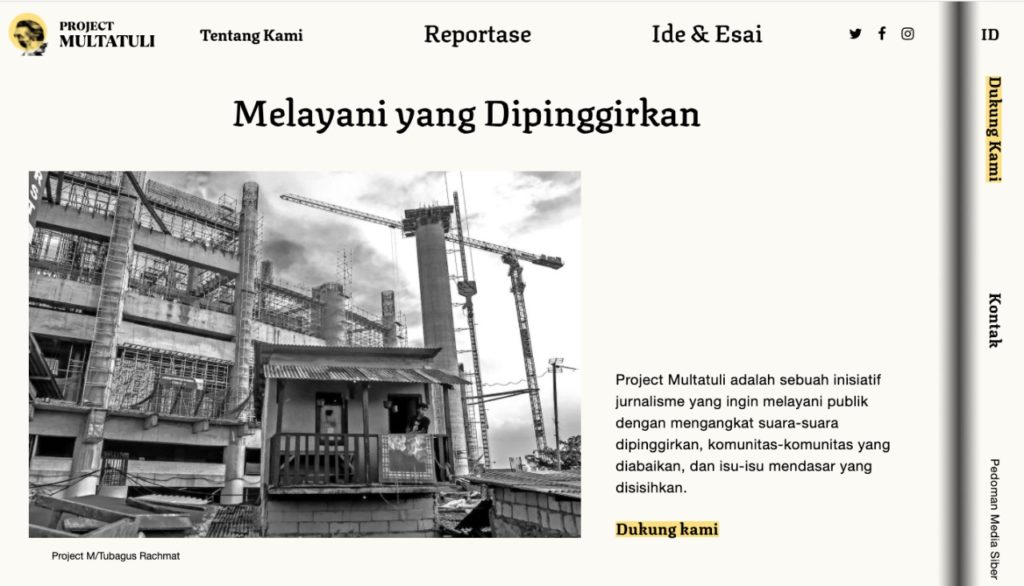 Evi Mariani, former Managing Editor of the english-language daily The Jakarta Post confirmed that the country's media industry was fast shrinking, especially following the outbreak of the pandemic. She said that there were two separate phenomena taking place simultaneously within the media industry. "While the big media do not grow or are stagnant, independent media such as ours (the Multatuli Project) are sprouting up," Mariani told Maverick on May 23, 2021.
Together with a number of senior journalists such as Ahmad Arif (Harian kompas), Ary Hermawan (The Jakarta Post), and Fahri Salam (Tirto.id), Mariani tried to respond to the ongoing difficult situation by seeing it as an opportunity to conduct some auto criticism of the country's media ecosystem which is deemed to carry the bias of oligarchic interest and often ignore important issues that are frequently being marginalized. Flying the flag of public service journalism, the Multatuli Project seeks to prove that good journalism can produce ideas, mobilize people and be impactful.
"Of course, with this public service journalism, the Multatuli Project does not serve anyone's particular political interest. It also does not bow to market interests by producing sensation-seeking news reports that are often of inferior quality," Mariani said.
Targeting readers aged between 18 and 40 years, the Multatuli Project offers slow journalism that does not rely on news quantity or speed. Every topic is presented thoroughly and based on research and data. In short, it is a conscientious journalism. The Multatuli Project exists to fill the gap in public journalism in the Indonesian media landscape. It currently has an eight member-strong editorial team, assisted by dozens of active volunteers in Jakarta and a number of contributors in the regions. For the next twelve months, the Multatuli Project will focus on the issues of customary communities, environment, climate change and also maximize the digital campaign that had been kicked off on May 3, 2021.
Besides providing a breath of fresh air to the media industry, the Multatuli Project will also design a business model which would allow it to remain loyal to the public and not to the elites or serve the interests of the market. At present, the Multatuli project is receiving journalism grants, or funding from a foundation which shares the same values. But for the future, the Multatuli Project would not merely rely on public donations and would set up a content business unit which will contribute all its profit to the project's public journalism. Besides producing journalistic works, the Multiatuli Project would therefore also conduct trainings, public discussions and even digital campaign services aimed at building public literacy. The Multatuli projects is also opening its door wide open to syndications with local, national and international networks under the creative commons principle. (*)
To know more about Project Multatuli please visit here Project Multatuli