Happiness is when you receive solid proof that what you did was truly helpful to others.
So we at the Catalyst team in Maverick was all smiles when we received a note from the Lentera Anak Pelangi telling us that they tried out an idea raised during our session two months ago and found that it really helped them.
Catalyst, for those unfamiliar with it, is an initiative by Maverick to create shared value with Indonesian NGOs and non-profits. We think their work benefits society greatly but they could do with better communications skills and practices that Maverick is privy to.
So when the pandemic began to affect all of us and we had to work from home to try to flatten the curve, we organized an online webinar with 16 Indonesian NGOs on how they can adapt to the new circumstances.
The NGOs were all facing the same situation and readily traded experiences and practices. YUM (Yayasan Usaha Mulia) that focuses on empowering underprivileged society, shared that they had to close their community center that comprised of schools, libraries, and medical facilities in Puncak, West Java.
The closures were essential to prevent the local communities from gathering and exposing themselves to possible infection from COVID-19. With Maverick Manager Karina Prameswari as the moderator, the NGOs also shared how the pandemic has changed the way they maintain their presence in the society and carry out their external and internal communications.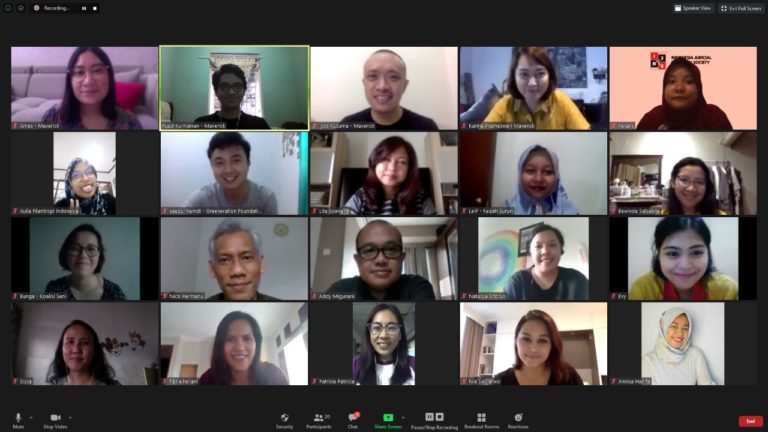 Most NGOs said a major challenge was to vie on social media for the attention of their donors and partners whose attention was currently fixated on the pandemic and its effects.
Borneo Orangutan Survival Foundation volunteered that they sought to break through the clutter by producing podcasts aimed at donors and partners abroad, and Instagram Live posts for domestic audiences.
"We addressed the latest update from our rehabilitation center about what we had to do and what the adjustments are, so our target audiences, especially from abroad, understand that the situation in Indonesia is also difficult at the moment", BOSF Media Officer Nico Hermanu said.
Greeneration Foundation improved their campaign strategies in digital platforms by maximizing pro-bono collaboration with influencers, communities, and media for fundraising. Greeneration Foundation Communication & Branding Manager Saepul Hamdi shared his tips to engage influencers in a pro bono collaboration during the pandemic.
"Working from home really upscaled our collaboration strategies in terms of fundraising, such as by regularly contacting up to 10 influencers through Instagram every day for potential collaborations. Their followers in social media really helped us increase our donation," said Saepul.
Internal communications – communicating with each other in the organization, as well as their volunteers, had also become a challenge because of the pandemic. Many of the NGOs said they had to get used to the new normal of online meetings and coping with Zoom fatigue. They had also to reallocate and manage costs associated with going online such as higher internet access fees.
Others shared their concerns about maintaining the mental health of their employees and volunteers and how they sought to address that through online sharing sessions, lunches or having virtual-background-themed Zoom meetings.
The Indonesia Judicial Research Society, an NGO that monitors and conducts studies on law enforcement in Indonesia, gave a useful tip about internal communications and maintaining mental health.
Its Information Manager Neka Rusyda said IJRS made it a point to have regular sharing sessions online to maintain mental health of their members, to check in on each other and to share non-professional matters. They found that this really helps to combat the sense of isolation its staff may feel working from home.
It was this advice that Lentera Anak Pelangi took to heart and started replicating within their organization. They were so overjoyed by the results that they wrote to us to thank us for organizing the session bringing together NGOs to share tips on how to cope with the pandemic.
And that, to us, make all the effort of organizing Catalyst sessions worthwhile. We felt very privileged to be able to help our colleagues in civil society communicate better and achieve positive result out of that.