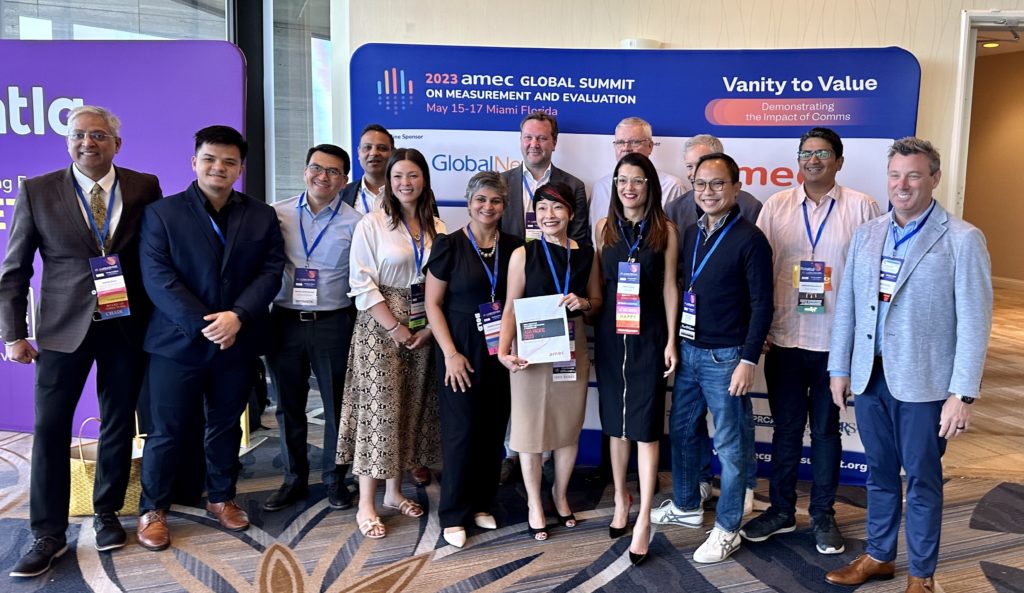 Maverick's head of Analytics and Insights Felicia Nugroho recently attended AMEC's Global Measurement and Evaluation Summit 2023 in Miami, Florida and learned from experts and specialists on the hottest developments in communication and measurement. This is her report:
Every year, PR and communication professionals, media intelligence specialists, and academics come together to exchange knowledge and share best practices in communication measurement and evaluation. This year's summit, held in Miami, Florida, saw the active participation of over 250 delegates from across the globe.
The topic of 'shifting from vanity to value' has been a subject of discussion within the PR and communication industry for some time now. In an era where conversations transcend channels and borders, the only way to truly substantiate the value of communication is by demonstrating its impact. This makes the topic more relevant than ever before.
However, many still find it challenging to move away from vanity metrics such as AVE. Here are some of the themes that emerged at the summit that may help inform those of you who are contemplating moving from AVEs to more meaningful metrics.
Earned media is the future
During his opening keynote presentation, Matt Neale, CEO of Golin, emphasized the significant evolution of the roles played by PR and communication professionals. They have progressed from solely safeguarding brands through crisis management and issue mitigation to actively contributing to brand growth.
With the ever-changing landscape of media, marketing, and communication, it is imperative that we shift from an "earned-first" approach to an "earned-led" approach. This entails elevating PR to become an integral part of the marketing mix by prioritizing earned media. By doing so, PR professionals have the opportunity to position ourselves strategically within the organization and take a more proactive role.
Neale further stated, "We need to shift our focus from measuring executional impact to establishing strategic leadership. Our future rests on the application of analytics, powered by the efficacy of earned-led thinking being the compass point for all marketing communications."
However, achieving this transformation is impossible if we continue to rely on vanity metrics. Neale's message was clear: "If we want to be trusted, we need to use trustworthy metrics."
From media-centric to audience-centric
Jim Macnamara, distinguished Professor of the School of Communication at Sydney's University of Technology shared his experience in leading the evaluation for WHO during Covid-19.
In addition to measurement and evaluation, we must emphasize the importance of 'learning.' While measurement and evaluation primarily examine past actions, focusing on what has been done, it is crucial that the results are leveraged for future strategic planning. By integrating learning into the process, measurement and evaluation become more meaningful, as they inform and guide future strategies.
Jim presented a dissected program logic model that effectively illustrates how media metrics only capture output data. He asserts that while media metrics are valuable sources of information, in today's environment, they represent only a fraction of public communication. Consequently, it is erroneous to directly equate media content with impact.
To begin substantiating value, it is essential to measure the audience's response and reaction through outcomes. Only then can the impact be realized as a direct result of all or specific communication efforts.
Generative AI: bias and ethics
The summit buzzed with discussions on AI. According to a survey conducted in April 2023 among 1,034 PR professionals, 61% of them reported already using or planning to use generative AI. Tasks such as crafting pitches, writing press releases, generating content, media monitoring, and research are among those being automated through generative AI.
Undoubtedly, generative AI has already started to assume a portion of PR tasks. This adoption has resulted in increased efficiency, allowing PR professionals to concentrate on strategic tasks.
Nevertheless, it is crucial to remain vigilant about the risks and limitations associated with generative AI. John Murphy, Associate Professor at the University of Connecticut and Digital Ethics Advisor, emphasized the issue of bias and ethics.
Large Language Models (LLMs) like the one used in generative AI are trained based on historical datasets, which inherently reflect existing social and cultural norms. This can perpetuate biases and stereotypes. Numerous examples of biased data related to gender, race, and minority groups can be found on the internet.
We must not rely on generative AI alone for our research or base strategic decisions solely on its data. It is vital to comprehend the context of our objectives and to exercise utmost care when using generative AI, keeping in mind the potential biases that may accompany its usage.
Asia Pacific Market Insights 2023
We also launched the APAC Market Insights 2023 white paper which is a collaborative effort by our members from various markets. The paper offers a comprehensive overview of the current state of measurement and evaluation in the field of communication and is available in six languages. As a co-chair of the AMEC APAC chapter, I felt honored to represent the region and take part in the official release of this publication.
The summit spanned two and a half days. I not only gained valuable knowledge and insights but also had great fun networking. The AMEC community comprises exceptional professionals and experts who are incredibly generous in sharing their expertise. I am sincerely grateful to Maverick for providing me with the opportunity to attend this summit. It was a truly worthwhile journey.
To unlock the APAC Market Insights 2023 white paper, click the download button below.