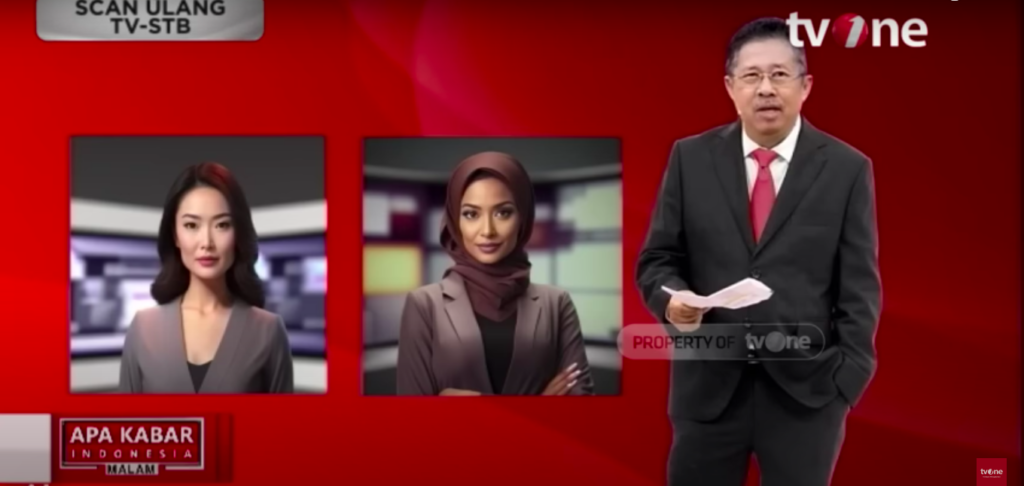 That evening, Karni Ilyas looked somehow different. The senior journalist greeted viewers in his trademark hoarse voice and proceeded to introduce two women whom he said would join the ranks of the country's news presenters.
Ilyas' appearance was definitively strange and so were that of the two women he presented. They all appeared stiff and oddly, the movement of their mouth often were not synchronized with the sound they made. Not very convincing for TV presenters.
"What is in front of you now is an avatar of Karni Ilyas, made by artificial intelligence. This marks my first avatar appearance as a presenter in Indonesia," he said.
The appearance officially signaled the real entry of artificial intelligence into the world of press in this country 
The avatar, of Ilyas and the two female presents – Sasya and Nadira – were launched by the TvOne news television station on April 21, 2023 during its news program "Apa Kabar Indonesia," coinciding with the launch of TvOne.ai, that is claimed to be the first AI-driven media in Indonesia.
At the launch TvOne CEO Taufan Eko Nugroho admitted that the character of the two new female avatars were not yet as good as real news presenter but was already much more advanced than six months earlier. Nugroho expected that a lot of improvements could be achieve in another six months.
Nugroho assigned the digital presenters to read the news in Instagram and TikTok beause of the target was the Gen Z market. Meta, Instagram's parent company, once said that research showed that Gen Z had a penchant for avatars.
Will Journalists be replaced?
Virtual news presenters are nothing new in the world. Indonesia is only following the foorsteps of other countries which have already used them. In 2018, the Chinese news agency Xinhua was the first to present the world's first virtual news presenter.
A number of news agencies and media from a number of countries such as India, China, Russia, South Korea and Kuwait have since followed suit. 
The virtual news presenters, male or female, were fed with data that could be read using the text to speech technology. India Today has its virtual presenter Sana, Kuwait with Fedha and both made their debut earlier this year.
Nugroho was quoted by Viva as having said that the presence of virtual news presenters would not replace the actual TvOne presenters and there was no need to worry that the human workforce will be replaced by machines.
"The virtual presenters from the AI system will only be used in presenting news that are urgent and compact, such as breaking news and the summary of brief news" he said.
TvOne news presenter Agita Mahlika positively welcomed the arrival of virtual presenters.
"Sooner or later, the use of AI will certainly take place because it can help distribute information in a more massive, fast and accurate way to the public," Mahlika said.
​​But she also stressed that there was a difference between virtual news presenters and human news anchors. 
"We believe that not all works can be taken over by AI or robots. Lobbying resources persons for interviews necessitates smooth and dynamic dialogues, this cannot be done by technology because there is a human touch side that cannot be replaced," she said.
Mahlika said that the arrival of the virtual presenters is prompting her to even hone her skills further. "as a news presenter that not only just read out scripts from prompters but a presenter that can dialogue in a dynamic way," she said.
Viva.co.id, in an official statement issued on April 26, 2023, quoted Nugroho as saying that an AI system can read and process information rapidly and accurately. This helps to speed up the process and reduce news production costs as well as expand the coverage of broadcasts to areas were AI presenters can present the news in the local language.
Echoing Nugraha, Se, Juan Señor , a partner from Innovation Media Consulting said during the FIPP World Media congress on June 7, 2023 that newsrooms could experiments with efficiency. "Try AI automatization. This technology is supporting us to produce high quality journalism and reduce costs massively," he said.
Production cost efficiency and a wider news coverage can help boost the productivity of journalists. This also provides a positive evidence that the presence of AI technology can improve the productivity of human work.
The latest research by Stanford and MIT, revealed that the use of artificial intelligence can help a software company to be more productive by up to 14 percent. This is showing the positive possibilities of AI technology in boosting human productivity.
The work challenges for journalists in an AI era
Besides improving efficiency, the use of technology to produce news reports also brought its own challenges, namely the potential of heightened disinformation.
Many netizens can now easily produce, upload or share pictures in the social media, even more so as Indonesia is entering a political year in 2024.
An example of this disinformation was the circulation on Twitter recently, of a photograph of former US President Donald Trump being dragged by policemen, which turned out to be an AI-produced picture.
An increasingly massive access to AI is also adding to the roles and responsibilities of mainstream media in maintaining the trust of the public. Mainstream media needs to be astute in selecting news and fact checking and not just report news that was viral in public.
Written by Ratmia Dewi