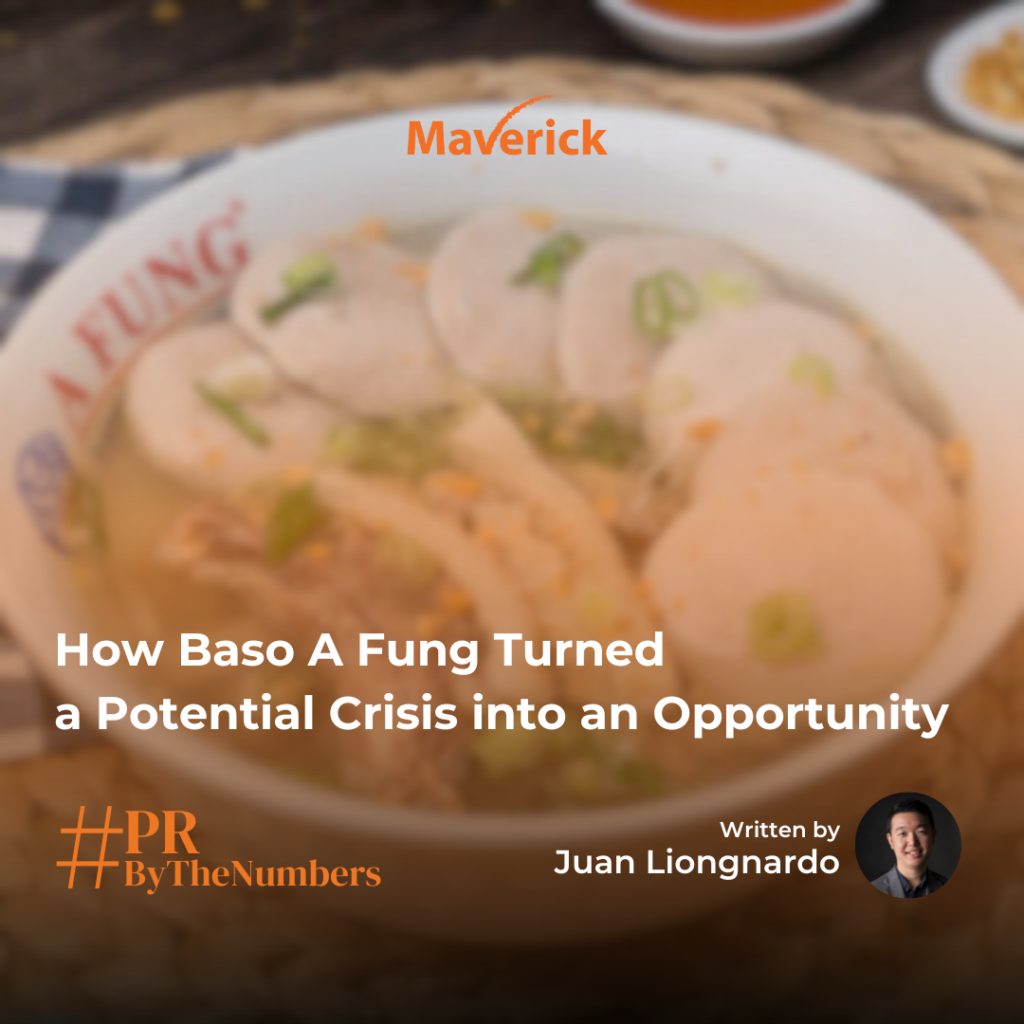 The Chinese word for crisis, 危機 (wēijī), consists of two characters that respectively mean danger and opportunity. This etymology was popularized by John F. Kennedy to illustrate that there's an opportunity in a crisis. There are perhaps only few organizations that can master the art of flipping a crisis-like situation into an opportunity.
Was Baso A Fung one of them?
Baso A Fung found itself on the edge of a crisis two weeks ago when influencer Jovi Adhiguna uploaded an Instagram video of him eating a bowl of baso with pork cracklings he bought from outside of the restaurant at I Gusti Ngurah Rai International Airport. The video went viral and raised a lot of eyebrows from netizens because Baso A Fung is also frequented by its Muslim customers.
Baso A Fung responded by uploading a video of its workers destroying all the crockery at the outlet. Some observers thought it was overkill and melodrama while others praised them for acting decisively and communicating through actions rather than words. Who is right? One could resort to logical arguments of the merits and demerits of Baso A Fung's actions but as a data analyst I prefer to let the numbers be the judge.
The first indication of success was obvious from the 35k engagements, almost all positive in tone, when it uploaded the crockery destruction on its owned Instagram account. This was 700 times the average engagement of 500 for its usual Instagram postings.
The content quickly caught the attention across earned and shared channels. The media published 248 news articles about Baso A Fung's crockery destruction. This, in turn, generated 16.8k social media engagements in the week the incident happened. This is in stark contrast to Baso A Fung not mentioned in any media articles at all in the past 3 months.
The conversation on social media quickly grew from only 186 conversations in April – July 2023 to 1,699 conversations in the week that the crisis emerged. The qualitative assessment on the word cloud also showed that Baso A Fung is associated with the keyword "Halal" while having no such association in the previous period.
At the time of writing, the Baso A Fung case is still unfolding, and it appears that Baso A Fung might have offended some Hindu constituents in their approach that can be interpreted as catering to the Muslim consumers.
Did Baso A Fung overstep in its response to the incident? A more toned down response may have not provoked its more strident Hindu constituents but again, if you go by the numbers, Baso A Fung did not do badly.
Only five out of its 69 outlets in Indonesia are located in Bali. The rest are mainly located in Java that has Muslim majority populations. This is important because it means that an overwhelming majority of Baso A Fung's customers are Muslims and while it may not have pleased some Hindus, it mainly did the right thing to most of the Muslims, its consumer base.
This case is in stark contrast to what happened to Budweiser Light, the American beer brand that collaborated with transgender influencers for a marketing campaign in support of LGBTQ+. Unfortunately, this campaign faced backlash from their core consumer base, the blue collar workers, resulting in a 31% drop in their sales compared to previous year during the week ending in July 1, 2023, according to the Nielsen IQ Data provided by Bump Williams Consulting.
While the verdict is still to come on whether Baso A Fung could have handled the issue better, one certain conclusion if you go by the numbers is that Baso A Fung had successfully snatched an opportunity to position itself as a responsive, uncompromisingly halal food chain from the jaws of a crisis.
Written by Juan Liongnardo