Tell me, what's the best thing that could happen to an Intern? I know there might be endless scenarios out there, but for me, the answer is to actually join a company outing trip to Manila, the Philippines!
As one of the winners of The Recruit 2019, a prestigious marketing communication competition for university level, I was granted the opportunity to experience a two-month internship at Maverick.
Since this was my first internship experience, my 101 guide was "Successful tips and tricks for intern" on Google. I read several blogs about people's internship experiences, approached my long lost friend who has been working in a company to teach me how to deal with the office environment, and asked several former interns from other universities about how to get the best out of your internship (and steal the boss' heart too! *wink*).
My first week ran smoothly; I started adapting to the office environment, my new colleagues, the daily commute, the eight-hour sit, the food comma after lunch, and even my colleagues' affinity for low AC temperatures. I observed every little detail in the office, to the point that when MaCa (the nickname for the office cat, short for Maverick Cat. Check out his Instagram @maverick_cat_maca) silently walked under my chair, I could feel his presence.
In the second week, however, I noticed something odd. Everyone was doing their business as usual, but then they received an e-mail, and all of the sudden the whole office started running around to take pictures with MaCa!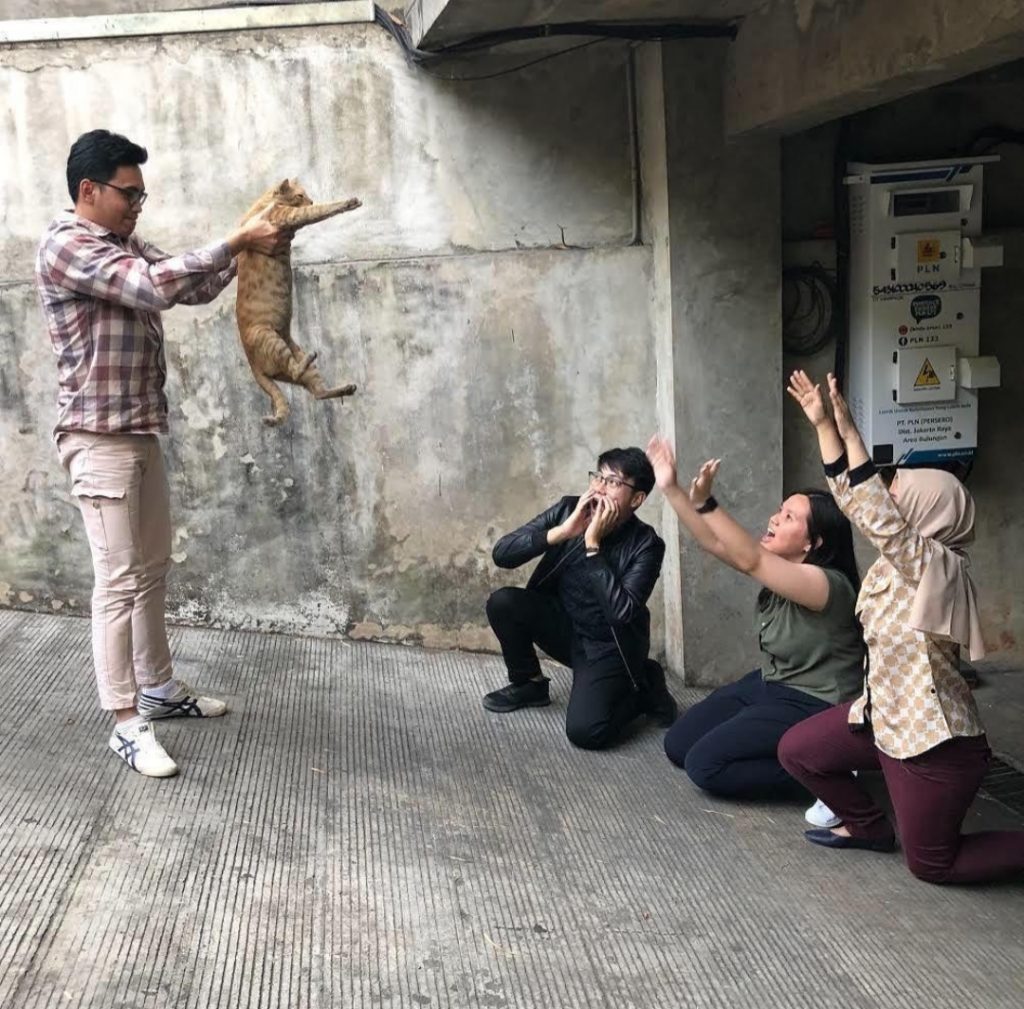 So there I was… a new intern who had no clue about what was going on at the office, looking at all these people randomly running around in the middle of the day, exactly at a time when I usually got hit by a food comma.
I decided to investigate the matter by asking around. It turned out that the office was running games for an outing trip. The whole office was divided into groups, and the outing committee would send the group challenges via email (or through WA blasts) that required them to work together. At that time, I thought the trip would only be for permanent employees.
Entering the third week, however, as I was having my brunch, Maverick Manager, Kak Marsha approached me. I thought she was going to give me a new assignment, but I was wrong. Instead, she told me that Maverick would fly me with the whole office for the company outing to Manila in the Philippines! It was even more exciting that during the outing I was given the task to take over the company's Instagram Story.
On the departure day, we went to Soekarno Hatta Int'l Airport at 20:00 to catch our flight at 00:00. By the time we arrived at Ninoy Aquino Airport in Manila really early in the morning, boy oh boy! We were so hungry. Our first stop was Bonifacio Global City (BGC). Maybe it is something like the SCBD version of Manila. What's unique about Manila was that the road signs are in English and there are fewer motorcycles too, so it's quite similar to Singapore. My first activity was to look for murals and take pictures in front of them. Some of the murals were so good, they looked similar to those in Melbourne.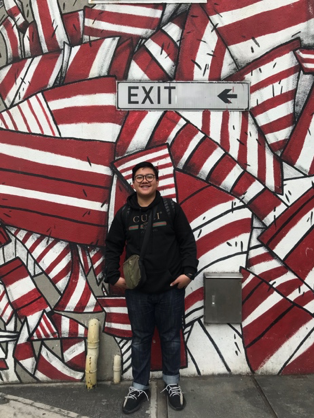 After we ate breakfast, our next stop was lunch. Wait, what? Didn't you just have your breakfast? Yes, definitely! After we had our breakfast, we went directly to Aristocrat restaurant to taste the best grilled chicken in Manila (according to our tour guides). It seemed like all that food from breakfast and lunch got to us quickly, because as soon as we checked in at the hotel, everyone went to bed.
I was a happy camper because the next agenda, right after I woke-up, was dinner at The Singing Cooks and Waiters Restaurant! This restaurant was incredible. Aside from their amazingly delicious foods, they offered a unique selling point: their cooks and waiters, who sang very well, entertained us while we dined! My favorite part was when they sang a song titled "On Top of The World" by the Carpenters, everyone in the room was singing along. It was such an incredible moment to see everyone singing joyfully.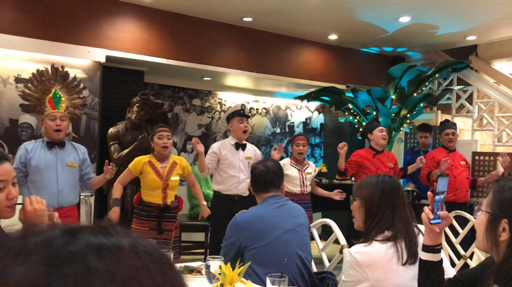 The second day of the outing turns into a full-blown adventure as the outing committee challenged us to take pictures with at least two traditional Pinoy foods (with the cooks in the picture too!), the famous public transportation Jeepney, and unique landmarks. My group decided to begin our journey by visiting the nearest traditional market from our hotel. We found several local foods such as balut and Pinoy hot cakes.
On our way to Rizal Park, we took a picture with a Jeepney that took us there. We did a scene that made it look like an accident had happened, courtesy of Kak Iyos's idea. At Rizal Park, many people were exercising or jogging in this clean and well-maintained park. In front of the park is the Kilometer Zero of Manila. This place is also called Luneta Park or Luna Park because of its moon-like shape.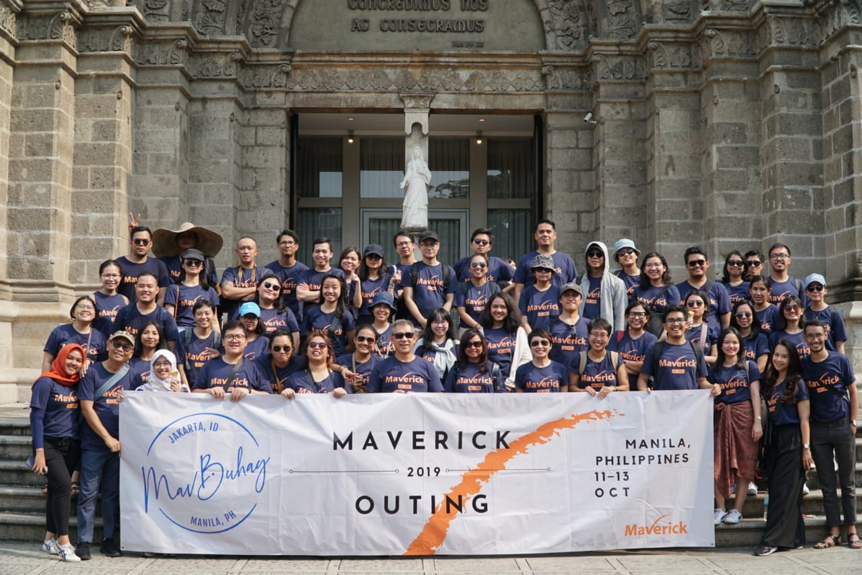 We spent about 30 minutes in Rizal Park before leaving for Jollibee, a local fast food restaurant chain. In my opinion, the chicken tasted a bit like McD's fried chicken back in Indonesia, but the spaghetti was so delicious! Many people think that Pinoy foods tastes a tad too sweet, but I love it!
After lunch, we regrouped with the other MavChicks and MavBros at a historical area called Intramuros. There were many historical buildings in the area, showing the Philippines' rich history throughout the colonial era. One of the majestic landmarks in the area was Fort Santiago, a citadel built by Spanish navigator and governor Miguel Lopez de Legazpi. It is one of the most popular tourist destinations in Manila. There is a museum dedicated to Jose Rizal and a jail where Jose Rizal was imprisoned inside the fort. We also visited the Manila Cathedral close to Fort Santiago.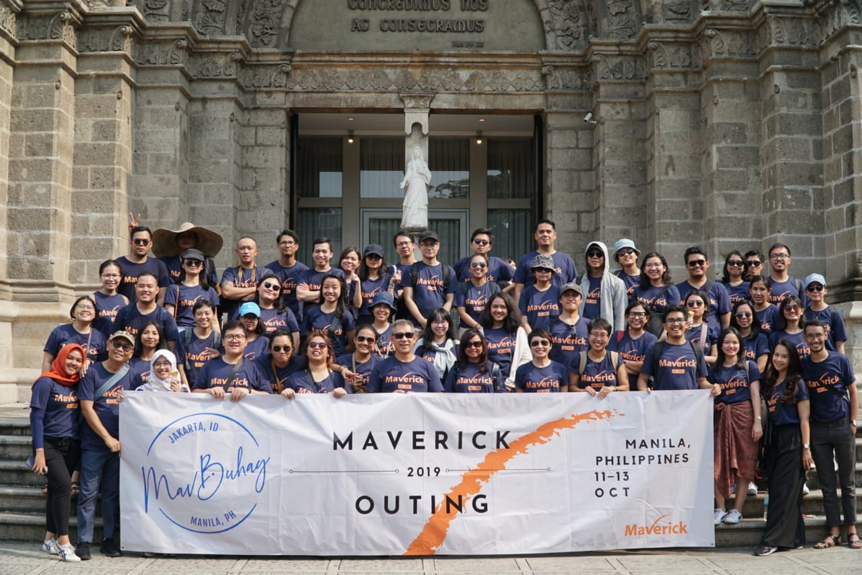 After our adventure around the city, we dressed up in gold, silver, and black suits and dresses for the MavGala dinner at SocietyLounge in Makati City. It rained heavily as we were heading to SocietyLounge but, obviously, the gloomy weather did not affect us.
The MavGala dinner was so memorable for me. I witnessed how Maverick gave its appreciation to the people and teams who had worked hard throughout the year.
Maverick Partner Ong Hock Chuan told me that the management invited me to go on this outing trip with them because they wanted to show me what Maverick love is all about – and that was exactly what I had experienced during my internship. Everyone had been so welcoming and open in sharing their expertise and experiences with me. Most importantly, they believed in me. They treated an intern like me just like how they treated any other person. In fact, I was no different than other MavChicks and MavBros. They tasked me with the same type of tasks they would give to other MavBros, and they treated me just like they treated other MavBros.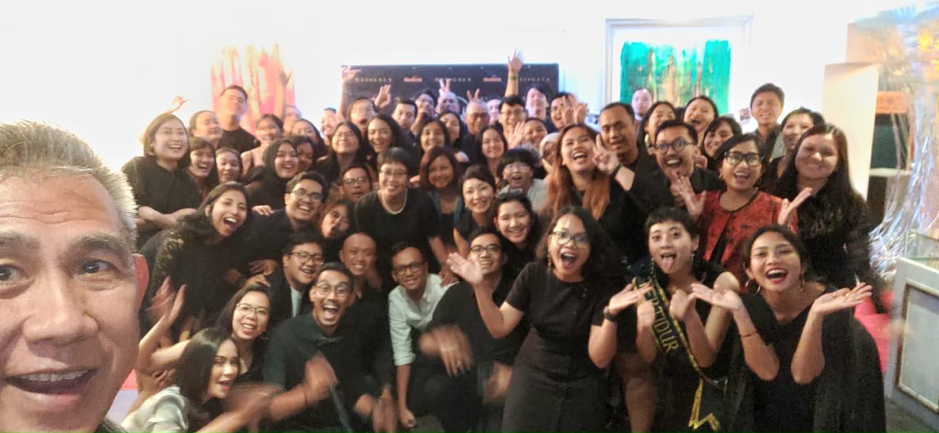 It was a bit sad that we had to bid farewell to the sweet moments we had in Manila. On our last day, we went to Binondo, the Chinatown of Manila. I bought a lot of souvenirs for the people at home and my college classmates. We also explored Mall of Asia, allegedly the biggest mall in Asia, before we headed to the airport to fly back home.
As an intern at Maverick, I learned that you should stay hungry for new experiences and never limit yourself by staying inside your comfort zone. You should say "I'll try'' to every given challenge. Second, accept all criticism and learn from your mistakes, because it's time for you to implement what you've studied in college in real work experiences. Third, express yourself and get to know your colleagues. Be friendly. Fourth, it's better to ask rather than being a Mr. Know-it-all. Last but not least, I think it's important to be actively involved in internal events and to always smile!
It's just a glimpse of all the experiences I was getting from working at Maverick. I would like to say thank you to all the MavChicks and MavBros especially the Hutchison 3 team: Kak Karina, Kak Fuad, Kak Rey, Kak Iyos, and Kak Haikal, and the AQUADNC Team: Kak Fuad, and Kak U-can!
Thank you for taking the time to teach me about the world of public relations. Special thanks to Ong and Mba Lita for giving me a chance to intern at Maverick. I am truly grateful to be welcomed by all the MavChicks and MavBros and entrusted with helping the PR professionals at Maverick.
Written by Arfian M. Hakim, Winner of The Recruit 2019