It is almost the end of the year and most brands are busy preparing gifts or hampers for their stakeholders.
Sending hampers was once a simple gesture to maintain relationships or to appreciate other people's hard work throughout the year or to celebrate important moments.
But things may have changed in this era of social media.
Some brands, apparently, now expect that such gifts carry an obligation for the recipients, especially key opinion leaders (KOLs) or influencers, to help portray their brand image and boost their online presence.
In October, before the hamper sending season went into full swing, well-known food blogger Hans Danials (@eatandtreats) received a PR package from a brand. So far, so good.
But then, a representative from the company rang him not only to ask whether he had received the package but also when he was planning to upload the product in the package on social media. Bothered by such a demand, Hans then shared his concern about this "demand" through an Instagram story.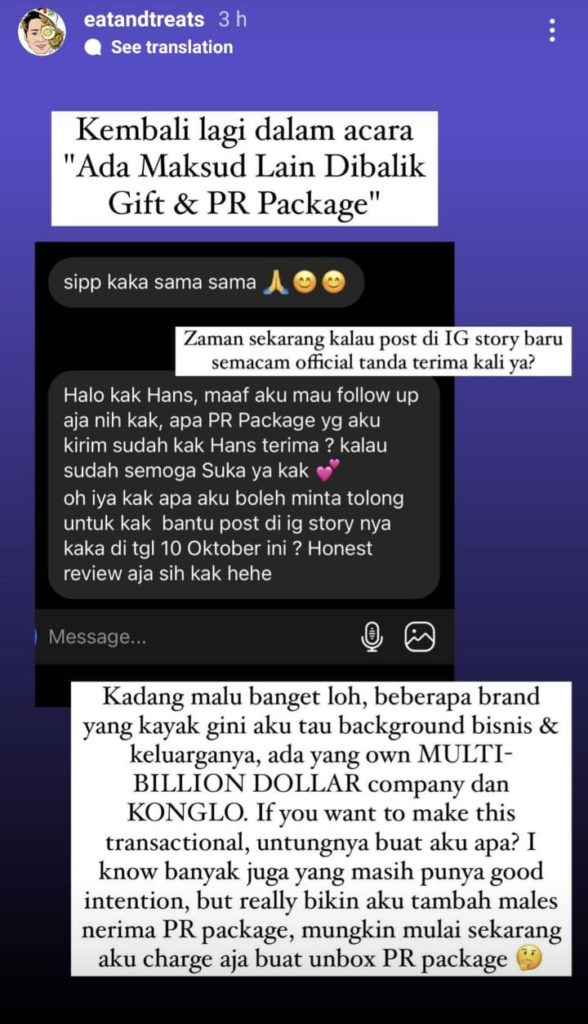 "It is okay if a brand wants to send me a PR package or hampers, but what disappoints me is when they ask for something in return after I received it," said Hans. "Building a good relationship doesn't have to be established as something transactional. I did not ask for products or anything in the first place, but I am always open to help within my capacity and, more importantly, on my own free will."
Hans believes that there are still many brands or agencies with good intentions and that are trying to maintain good relations with him. It is actually something that he really appreciates, so that both parties can deliver their best work in a partnership.
With brands increasingly focusing on their social media campaigns, people now also tend to consider the reputation of the brand they work with. Therefore, we have to be more critical in communicating our expectations from the beginning — it is also something that Hans emphasized to us. If a brand, for example, expects a publication on its product from the KOL, it should better convey this before sending the package, so there will be no misunderstanding.

Most importantly, maintaining good relationships is the foundation for long term partnership with our stakeholders. Maintaining such links can be established by just sending a simple hello here and then, or share a gift when the occasion presents itself.
Written by Alfi N. Ramadhani, Account Coordinator – Community Outreach