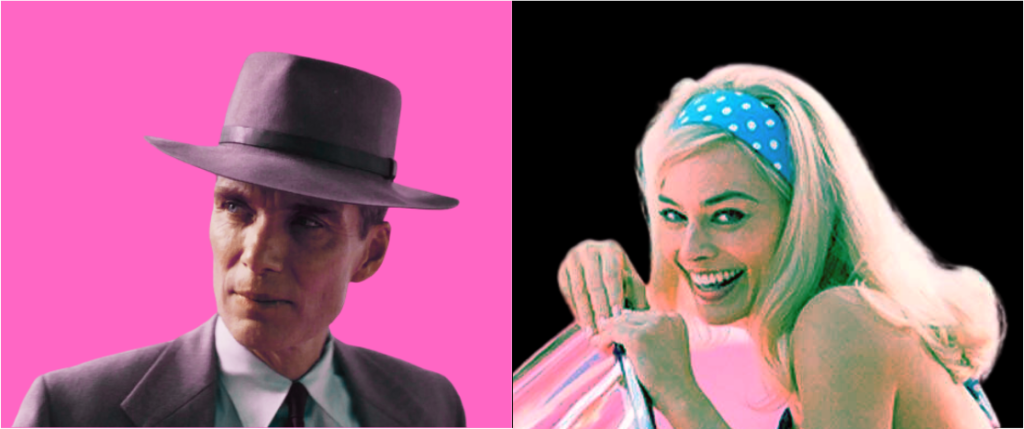 Since the beginning of July, "Barbenheimer" has become one of the hot topics covered by the media. Barbenheimer is essentially a term merging the movie titles two box office hits, Barbie and Oppenheimer.
These movies are as different as can be. Barbie was ostensibly a fantasy story about fashionable dolls but it was really a social critique on gender. Oppenheimer, however, was about the implications of the power of an atomic bomb that was unleashed during World War II.
Due to the movies being released on the same date, July 19, a wit coined the word "Barbenheimer," and it stuck, or rather, it went viral.
Normally, in the hypercompetitive movie industry the launch of new movies is a zero-sum game where the winner takes most of the audience at the expense of the other competitor. In this instance, however, the movies seemed to settle on a win-win solution where the popularity of one movie rubbed off on the other.
This phenomenon is strongly backed by the creators of these two movies, namely Christopher Nolan and Margot Robbie, as they actively endorsed each other's projects and urged their respective fan bases to view both movies. As a result, this strategy effectively heightened the audience's excitement for both the Barbie and Oppenheimer movies.
Initially, before the Barbenheimer phenomenon emerged from January to June 2023, there were just 79 Oppenheimer articles from 50 sources in Indonesia. Meanwhile, Barbie had already accumulated 521 articles from 187 sources, with media interest starting in March 2023.
However, when the Barbenheimer trend began on July 1st, Oppenheimer-related articles surged by 11-fold compared to the pre-Barbenheimer period. Additionally, media coverage of Oppenheimer increased by 434% compared to before the Barbenheimer phenomenon.
When we look at the top 10 keywords about "Barbie" on the Internet, the term "Oppenheimer" also appears. This highlights the correlation between the two movies in popularizing the term "Barbenheimer."
Total articles
Trend "Barbeinheimer" started from July 1, 2023
Google Search
Trend "Barbeinheimer" started from July 1, 2023

This phenomenon boosted both media and public interest and resulted in the unprecedented success of both Oppenheimer and Barbie, collectively grossing over $80 million in their opening weekend. Oppenheimer achieved a global gross of $172.4 million, becoming Christopher Nolan's top non-Batman film, and set records as the highest-grossing World War II movie. It was also the first R-rated movie to maintain daily grosses exceeding $10 million for seven consecutive days, running for a total of 10 days.
Make love, not war
Barbenheimer is but the latest example where rival brands do better when they collaborate rather than to go for all out competition.
In various industries, rivals occasionally show support for each other, as seen in the case of fast-food giants McDonald's and Burger King. In 2019, Burger King's charity campaign omitted its Whopper on McHappy Day, promoting Big Macs from McDonald's, boosting Big Mac sales by 73,437 compared to the previous year. This also garnered Burger King positive social media attention, bolstering its burger industry standing.
In the automotive sector, BMW and Mercedes Benz promoted their products and endorsed each other in 2020. They showcased each other's cars at their respective events, generating positive social media engagement with thousands of likes and shares.
These findings indicate that collaborating with or supporting competitors can significantly boost visibility and enhance brand recognition. Increased exposure can also broaden the audience base, potentially reaching new demographics and facilitating future brand expansion.
So feel and spread the love, marketers.
Written by Adrianus Sukanto, Account Coordinator